December 16th, 2009 — 12:07am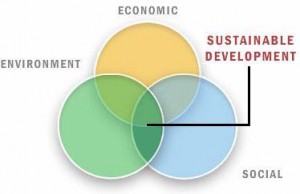 As mentioned in the FAQ, our Hand-Free™ Containers are made of polypropylene, or PP. PP's strengths include toughness, strength, barrier to moisture, and a high melting point which makes it resistant to heat, grease, oil, and chemicals.
Some common commercial applications of PP include reusable microwaveable ware, kitchenware, yogurt containers, margarine tubs, disposable cups and plates, and of course our Hand-Free™ Containers.
PP can be identified by the resin identification code 5. Although traditionally resin identification codes 1 and 2 (PET and HDPE respectively) have been recycled more frequently, PP recycling is now become more common. It is important to note that recycled plastic is not converted back into virgin plastic, but is used to make new products such as plastic chairs, tables, fleece, lumber, and buckets. In India, recycled plastic has even been used to make roads!
As the business world continues to grapple with issues such as climate change and sustainable development, it is almost certain that both the quantity and types of plastic that can be recycled will increase. Hand-Free™ Limited will also do its part to engage with these environmental concerns.
Sources:
Comments Off